CLAIMANTS' ADVISORY COMMITTEE E-NEWSLETTER
Dow Corning Bankruptcy Settlement
Volume 12, No. 5, June 17, 2015
Contact the CAC at: info@tortcomm.org or
phone: (419) 394-0717
fax: (419) 394-1748
Sybil Niden Goldrich
Ernest Hornsby, Esq
Dianna Pendleton-Dominguez, Esq.
This is the 123rd  e-newsletter (Vol. 12, No. 5) from the Claimants' Advisory Committee (CAC) in the Dow Corning bankruptcy Settlement Plan. You were sent a copy of the newsletter because our records show that you requested to be on the mailing list. If you wish to unsubscribe, click here or to reply to this newsletter, send an email to: info@tortcomm.org. Please do not hit "Reply" to this email address.  To contact the CAC, use the email address: info@tortcomm.org or dpend440@aol.com. You can also contact the CAC directly at 419-394-0717.
______________________________________________________________________________________________________
COURT APPROVES MAILING OF NOTICE FOR PROPOSED CLASS 7 CONSENT ORDER
On May 22, 2015, the CAC filed a proposed Consent Order with the District Court seeking approval to pay the approved Disease claims in Class 7, the Silicone Gel Material Claimant Fund.  On June 2, 2015, the Court approved the Notice for the proposed Consent Order to be mailed to Class 7 claimants.  The Notice was mailed on June 12, 2015.
What is the proposed Consent Order for Class 7 claims?
Under the Plan of Reorganization, Court approval is required before Class 7 disease claims can be paid since it is a capped fund. The proposed Consent Order provides that approved Disease claims will be paid the maximum amount allowable under the Plan – 40% of the Base Payment listed on the Class 5 disease grid.  For example, if a Class 7 disease claim is approved for Disease Option 1, ACTD Level C, the Class 7 payment amount will be $4,000 (40% of the $10,000 listed on the disease grid). If you were previously mailed a Notification of Status letter about your disease claim in Class 7, the Consent Order will not change the dollar amount or approval status of your claim. The proposed Consent Order is simply seeking court approval to pay these claims.
In addition, the Consent Order proposes to allow many Class 7 claimants who had previously been denied a payment based on "inadequate marshaling" to now recover from Class 7. The key to eligibility will be whether a claimant could have received a similar disease recovery from the Revised Settlement Program (or the Foreign Settlement Program).  If she could not have recovered from the RSP or FSP based on her status in that settlement, the SF-DCT will now review the claim for payment and will not deny the claim for "inadequate marshaling."
How can you find out your status under the proposed Consent Order?
Claimants can check online to determine their status in Class 7.  Go to www.sfdct.com, click on the link for "Class 7 Claims" and you will be redirected to a page that asks you to enter your SID number.  Once you enter your SID number, the link will then provide information as to how your claim will not be treated under the proposed Consent Order.
This is what the screen should look like on the SF-DCT page: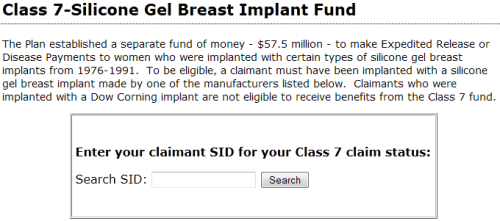 What is the next step in the process?
The plan interpretation will allow most of the previously denied marshaling claimants the ability to seek a disease payment in Class 7, subject to a set-off for any amount they received from the RSP or as an opt-out claimant in the RSP (or foreign settlement program).  The Notice provides that any objections to the proposed Consent Order should be filed with the Court by July 27, 2015.  If any objections are filed, this will delay approval of the Consent Order by the Court which in turn will delay payments to claimants.  If there are no objections, then the Court will enter the Consent Order and claimants who already have an approved disease claim can be paid immediately. 
Eligible claimants whose claim was previously denied based on marshaling but who are now eligible based on the Plan Interpretation will receive a letter offering them either the Expedited Release Payment of $600 or, if they applied for a disease claim, a Cash-Out Offer for $3,000.  If disease claimants reject the Cash-Out Offer, they can opt for a full review of their disease claim and payment up to 40% of the Disease Grid if approved, subject to any setoff for a prior recovery.  This is the same treatment other Class 7 claims received.  Over 90% of Class 7 claimants who were eligible for the Cash-Out Payment elected to accept it.
The CAC has worked a very long time to bring the disputed issue of marshalling to a resolution.  We strongly believe that the proposed Consent Order is the best resolution possible.  We sincerely hope that claimants and counsel do not object to the proposed order and will allow this process to move forward and let claimants be paid.  A copy of the Consent Order is available on the CAC's website, www.tortcomm.org.
STATUS OF PREMIUM PAYMENTS
                There is no news on the status of Premium Payments.  The ruling from the Court of Appeals is final and cannot be changed.  The next step in this process is for the Finance Committee to make another recommendation to the District Court asking for approval to either complete the remaining Partial Premium Payments and/or to recommend the remainding 50% Premium Payment to be authorized.  The Finance Committee is waiting on an analysis of this issue from the Independent Assessor, who is reviewing claims data and making projections about the availability of funds in the future.  We expect to receive information on this in the fall of 2015, and we will update everyone at that time.
CLAIMS PROCESSING AND PAYMENT UPDATES
Through MAY 31, 2015, the SF-DCT has received 82,008 Proof of Manufacturer claim forms in Classes 5, 6.1 and 6.2 (Dow Corning Breast Implant Claims).  Of this number, 67,459 or 82% have acceptable proof of at least one Dow Corning breast implant.  Of the 67,459 Dow Corning breast implant claimants with acceptable proof of manufacturer, almost 33% (one-third) or 21,984 women have been approved for a Rupture claim for their Dow Corning silicone gel breast implant.
The SF-DCT is current in processing all new claims and requests for re-review.
CLASS 5, 6.1 AND 6.2

(EXCLUSIVE OF NOI PAYMENTS)

(DOW CORNING BREAST IMPLANT CLAIMS)

CLAIM CATEGORY

NUMBER OF CLAIMS PAID THROUGH MAY 31, 2015

PERCENTAGE OF CLAIMS APPROVED      CLASS 5  | CLASS 6

TOTAL $$ PAID IN CATEGORY THROUGH MAY 31, 2015

RUPTURE

21,984

72% | 40%

$     422,922,523.94

EXPLANT

30,122

99% | 89%

 $    145,814,786.91

EXPLANT ASSISTANCE

    820

98% | 92%

 $       4,053,641.10

INCREASED EXPLANT (6.2 ONLY)

   322

N/A | 76%

 $          966,000.00

EXPEDITED RELEASE

           25,287

92% | 88%

 $     46,478,625.39

DISEASE OPTION 1

           29,496

83% | 74%

 $   427,974,623.34

DISEASE OPTION 2

 1,501  

31% | 22%

 $   192,385,998.75

TOTAL

109,532

N/A

 $   1,240,597,199.43
TOTAL PAYMENTS MADE BY THE SF-DCT TO DATE
Since the Effective Date on June 1, 2004, the SF-DCT has reviewed and paid approximately 115,276 approved claims for benefits. To date, it has paid out approximately $1.288 billion in Base Payments, plus an additional $93.5 million in Premium Payments to claimants in Classes 5 and 6 (Dow Corning Breast Implant claimants), for a total payout of $1.3815 billion. The following chart summarizes the amounts paid out by class and benefit type through May 31, 2015.
5/31/2015

INCLUDES NOI PAYMENTS (DOES NOT INCLUDE STALE CHECKS)

RUPTURE

EXPLANT

INCREASED EXPLANT

EXPLANT ASSISTANCE (EAP)

EXPEDITED

DISEASE

MEDICAL CONDITIONS (IFBR, TMJ, IMPLANT FAILURE)

OTHER PRODUCTS PREMIUM PAYMENT

TOTAL

CLASS 5

$426,948,547.19

$146,413,634.71

N/A

$4,201,841.10

$42,611,141.54

$607,278,053.61

N/A

N/A

$1,227,453,218.15

CLASS 6.1

$14,085,750.51

$4,584,969.90

N/A

$12,000.00

$3,164,643.85

$8,616,218.48

N/A

N/A

$30,463,582.74

CLASS 6.2

$3,696,000.00

$249,750.00

$1,305,000.00

$15,000.00

$161,700.00

$4,466,350.00

N/A

N/A

$9,893,800.00

CLASS 6.2 2

N/A

N/A

N/A

N/A

$119,800.00

N/A

N/A

N/A

$119,800.00

CLASS 6.2 3

N/A

N/A

N/A

N/A

$516,600.00

N/A

N/A

N/A

$516,600.00

CLASS 7

N/A

N/A

N/A

N/A

$0.00

$0.00

N/A

N/A

$0.00

CLASS 9

$130,000.00

N/A

N/A

N/A

$1,762,145.10

N/A

$2,866,500.00

$14,215,000.00

$18,973,645.10

CLASS 10.2 / 10.2

$6,000.00

N/A

N/A

N/A

$155,850.00

N/A

$219,625.00

$1,050,875.00

$1,432,350.00

TOTAL

$444,866,297.70

$151,248,354.61

$1,305,000.00

$4,228,841.10

$48,491,880.49

$620,360,622.09

$3,086,125.00

$15,265,875.00

$1,288,852,995.99

RUPTURE

EXPLANT

INCREASED EXPLANT

EXPLANT ASSISTANCE (EAP)

EXPEDITED

DISEASE

MEDICAL CONDITIONS (IFBR, TMJ, IMPLANT FAILURE)

TOTAL

CLASS 5

21,492

29,587

N/A

847

21,527

29,013

N/A

N/A

102,466

CLASS 6.1

1,177

1,546

N/A

4

2,647

813

N/A

N/A

6,187

CLASS 6.2

528

137

435

5

231

1,171

N/A

N/A

2,507

CLASS 6.2 2

N/A

N/A

N/A

N/A

101

N/A

N/A

N/A

101

CLASS 6.2 3

N/A

N/A

N/A

N/A

861

N/A

N/A

N/A

861

CLASS 7

N/A

N/A

N/A

N/A

0

0

N/A

N/A

0

CLASS 9

26

N/A

N/A

N/A

1,763

N/A

476

498

2,763

CLASS 10.2 / 10.2

2

N/A

N/A

N/A

261

N/A

64

64

391

TOTAL

23,225

31,270

435

856

27,391

30,997

540

562

115,276
STALE CHECKS
This is a reminder that thousands of checks totaling over $2.5 million in settlement payments have been either returned to the SF-DCT for various reasons or have not been cashed.  In addition, stale Premium Payment checks total approximately $4 million.  When a check is stale, it means that claimants did not receive the payment that they were approved for, primarily because the claimant could no longer be located.
Some of the reasons for stale checks are:
● the claimant no longer lived at the address provided and cannot be located. It is urgent that claimants keep their name and current address updated with the SF-DCT.
● the claimant has passed away and her surviving heirs have not filed the appropriate probate documents with the SF-DCT to take over the claim and receive payment . The executor for the deceased claimant should contact the SF-DCT for information on how to proceed and what forms are required to receive payment.
● the claimant has changed her name since she submitted a claim and the name on the check does not match her current name. Claimants can request that a new check be issued once they provide documentation of the name change.
● the claimant did not cash the check and it has gone stale. If you are holding onto a check that is past 180 days from its issuance, you must contact the SF-DCT and request a new check. Please note that new checks for partial Premium Payments cannot be issued at this time based on the ruling by the Court of Appeals for the Sixth Circuit.
When the SF-DCT closes in 2019, claimants with an approved claim but who cannot be located will not be able to recover any funds.  It is extremely urgent that every claimant and law firm keep their contact information updated with the SF-DCT.
ATTORNEYS MUST SUBMIT A NEW W-9 TO THE SF-DCT
The paying agent for the SF-DCT, Wells Fargo, requires that all attorneys must submit a new W-9 to the SF-DCT before payment can be issued to either them or their clients.  The W-9 form was revised by the IRS in December 2014.  You can download a copy of the new W-9 on the Home Page of the CAC website (www.tortcomm.org) or by contacting the SF-DCT at info@sfdct.com.
DEADLINE REMINDERS                          
Please mark your calendar with the following claim submission deadlines. Please note that these deadlines mean that your claim forms and materials must be received by the SF-DCT by the posted deadline. Please mail all forms early enough so that they are received by the deadline listed below.
| | |
| --- | --- |
| Deadline Date | Type of Deadline |
| June 3, 2019 | Disease or Expedited Release Claim submission deadline for all claims in Classes 5, 6.1 and 6.2 (this deadline does NOT apply to Late Claimants) |
If you would like to read prior CAC e-newsletters, they are available on the CAC website by clicking on "Electronic Newsletter." We urge you to visit the CAC website (www.tortcomm.org) on a regular basis to download or view relevant documents and read updates and new information. To contact the CAC, send an email to: info@tortcomm.org or send a letter to the Post Office Box address for the CAC at:
Claimants' Advisory Committee
P.O. Box 665
St. Marys, Ohio 45885
Phone Number: (419) 394-0717
Fax Number: (419) 394-1748
Email: info@tortcomm.org
NOTICE: This document is copyrighted. You are not authorized to post it on any website without express, prior written permission of the Claimants' Advisory Committee.